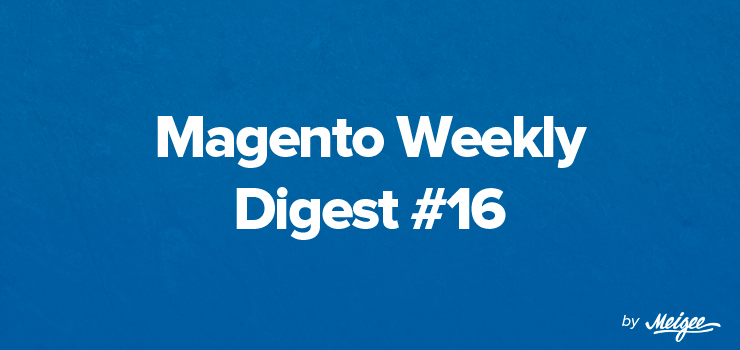 ---
Hey people!
Monday brought us another weekly digest and we are ready to deliver you the new selection of the most recent news, blog articles and tutorials which will help you to maximize your online potential and dive deeply into eCommerce.
We know that running online business is always a challenge, whether you are just a beginner or experienced eCommerce merchant. But with the help of such useful materials about Magento customization, online selling and business competition, you will get a good base to increase your profit and watch your business grow. So check out the following topics and stay always updated:
Top eCommerce Events You Should Attend Before Summer
Make a schedule to visit some upcoming conferences, summits and other eCommerce events which will be held in May and June.
Meet Magento Association Interview Decathlon: Thomas Goletz with the Start Number 1
Check out the interview with the founder of Meet Magento Association, Thomas Goletz, about his job, life and business.
Magento U: Moving Products between Categories Using Import and Export
Browse this episode to learn how to effectively move large numbers of products between categories.
IoT: Expect the Unexpected
This is quite interesting blog entry which is related to IoT (the Internet of Things) term, numerous IoT solutions which are built on Beacon technology and unique synergy of the online and offline world.
Top 10 Tips When Launching Magento 2.0 Extensions: Promote Your Success
Look through the next advice from Magento valued developers if you have clients trying out your Magento 2.0 extensions.
The Telltale Signs of a Failing Project
If your project didn't have a smooth start, it's critical to trace and understand all signs to avoid it from going downhill.
Two Simple Tips to Boost the Conversion Rate on Your Site
Coming from the fact that a high conversion rate is an essential thing in order to sell more, find out what are the ways to increase CVR.
Creating Magento 2 Admin Routes with Pestle
Check out the new quick note from Alan Storm concerning creating admin routes with Pestle in Magento.
CSS Preprocessing in Magento 2
One of the most important issue that has Magento 2 Frontend is CSS preprocessing, so look through this helpful article to explore more useful stuff on this topic.
Why Selling Is Different Today than It Used to Be
This insight reveals some interesting facts about why people constantly change their behavioral patterns and why these aspects have an extremely strong impact with regard to sales.
Add Qty Increment Buttons to Product Page
If you are editing quantity on your product page, this tutorial explains how to use UI components with jQuery and Knockout.js.
How do You Treat Your Competition?
This is blog article will be quite useful for all online merchants who want to stay afloat in this wildly competitive eCommerce world.