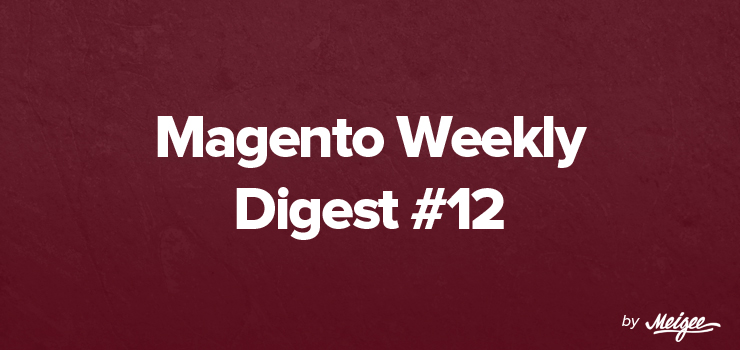 ---
Hey everyone!
Hungry for a new portion of fresh news? Here we go! This week we selected the most recent Magento-related articles, reviews and tutorials that will be quite useful for you.
In this digest you'll find the detailed reports from the Magento Imagine Conference and upcoming Developers Paradise event as well as tutorials how to create responsive eCommerce Product Pages with Bootstrap, how to set FedEx API for your online store, etc. As for the general eCommerce topics, you will browse some great articles about alternative funding resources for online business, how to test your Facebook ads and much more.
Developers Paradise Is Coming
Get more information about the most anticipated April event that is going to be one of the most knowledgeable, powerful and effective e-commerce event in this year.
First Imagine General Session in New Era
In this article MageDaily team gives a brief review of Magento Imagine General Session, sharing with their thoughts and expectations before conference starts.
12 Tips To Learn from April Fool's Day
Check out some useful marketing advices which help to run an April Fool's campaign for your eCommerce business.
Imagine Kicks Off
If you couldn't attend n this insight you will read about Reporting regularly during the Imagine conference, Magedaily gives the insight of the opening day that included special sessions, trainings and networking events.
How to Test and Change Facebook Ads, to Drive Performance
If you have any concerns about ad frequency, this useful article contains all necessary information about how often you need to update your ads as well as refresh and test them.
When can you deliver?
In order to give more flexibility to your online store and make it easier for a customer to decide what shipping method to use, you can make a slight modification and set FedEx API.
Create Responsive Ecommerce Product Pages with Bootstrap
This great tutorial describes in detail how you can use Bootstrap grid to lay out a product detail page and how to work with Bootstrap's navigation tabs.
Imagine General Session I: The Big Announcement
Here you'll find the most important and interesting notes about the first day of Imagine Conference with general sessions and newest announcements from Magento Commerce CEO, Mark Lavelle.
Magento Imagine General Session III
Review what keynotes, breakout tracks and special sessions had the third day of the conference.
6 Alternative Funding Resources for Ecommerce Businesses
It's quite useful article for all people who want to run their online business, but don't know from where to start and how to find a lender.
6 Principles for Small Business Automation
In this article you can learn some great methods that will help you to transform manual business process into automatic operation.